BED & BREAKFAST & ARTS
República, Bed & Breakfast & Arts - opened last July 2016 - is located on Avenida da República (Avenue of the Republic) - one of the main streets of Lisbon - in an area with a lot of shopping and numerous transportations right outside the door (even has a train station that goes directly to Sintra). The space is wide, regarding the rooms as well as the common areas. Located on a 4th floor, it has lots of light and stunning views of the Campo Pequeno Bullring which is also one of the main venues of Lisbon shows.
The República is closely linked to the arts and promotes local artists - some renown - through their works that are scattered throughout the space. These works are also marketed (for sale) so that our guests can take a souvenir with an artistic imprint of Lisbon.
​
osquartos
THE ROOMS
There are nine rooms available, all very spacious (between 16 and 20m2) and most of them have a balcony. There are two suites – with their own bathroom – and the other seven rooms have three bathrooms to share (with private usage). Each room represents a typical neighborhood of Lisbon and is decorated with works of art by local artists. Take a look aqui here.
servicosincl
servicosincl


Free for children under 2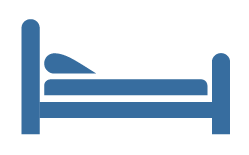 REGULATIONS
Check-In / Check-Out
The República B & B has the following schedule:
Check-In: 15:00 – 19:00; Check-Out: 12:00
Cancellation policy
Up to 8 days before check-in date: free cancellation. Less than 8 days before check-in date: 1 night will be charged.
Terms and conditions
All prices include VAT.
Municipal fee (tourist) - A city tax of € 2 per person per night is not included in the price and has to be paid aside. This fee is charged to guests older than 13 years, in a maximum of € 14 per person.
Keys
The guest is responsible for the keys that are delivered at check-in. The loss or damage of the keys has a cost of € 5 (electronic card) and € 15 (room key + key ring).
Local housing register
30 949/AL