BED & BREAKFAST & ARTS
República, Bed & Breakfast & Arts - opened last July 2016 - is located on Avenida da República (Avenue of the Republic) - one of the main streets of Lisbon - in an area with a lot of shopping and numerous transportations right outside the door (even has a train station that goes directly to Sintra). The space is wide, regarding the rooms as well as the common areas. Located on a 4th floor, it has lots of light and stunning views of the Campo Pequeno Bullring which is also one of the main venues of Lisbon shows.
República Bed & Breakfast is closely linked to the arts and promotes local artists - some renown - through their works that are scattered throughout the space. These works are also marketed (for sale) so that our guests can take a souvenir with an artistic imprint of Lisbon.
​
osquartos
THE ROOMS
There are nine rooms available, all very spacious (between 16 and 20m2) and most of them have a balcony. There are two suites – with their own bathroom – and the other seven rooms have three bathrooms to share (for private but not exclusive use). Each room represents a typical neighborhood of Lisbon and is decorated with works of art by local artists. Take a look aqui here.
servicosincl
servicosincl


Free for children under 2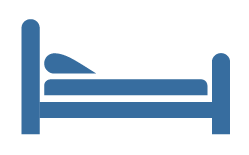 REGULATIONS
Check-In / Check-Out
República Bed & Breakfast has the following schedule:
Check-In: 15:00 – 19:00; Check-Out: 12:00
Cancellation policy
Up to 8 days before check-in date: free cancellation. Less than 8 days before check-in date: first night will be charged.
Note: República Bed & Breakfast reserves the right to cancel any reservation.
Terms and conditions
All prices include VAT.
Municipal fee (tourist) - A city tax of € 2 per person per night is not included in the price and has to be paid aside. This fee is charged to guests older than 13 years, in a maximum of € 14 per person.
Local housing register
30 949/AL